Whether you run a 5-Star hotel or idyllic boutique guest house, technology is a must for any hotelier. But how do you choose from the many ePOS and tech providers out there?
Sticky® is unique as we put you firmly in the driving seat, providing you with the tools to build your own no code solution, even better you can create everything you need within one dashboard. Say goodbye to multiple unconnected solutions and hello to freedom and next generation hospitality tech.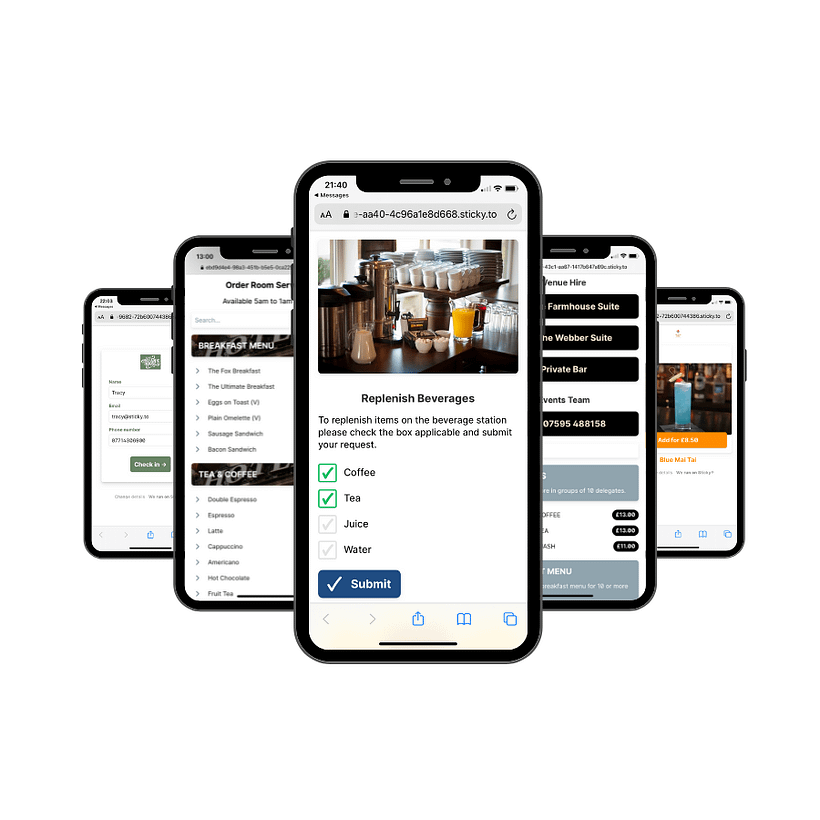 Meeting guest expectations
Post COVID and the surge in hospitality tech continues, we believe it's important for hoteliers to design technology solutions around their individual guests. The Sticky dashboard gives you the freedom to create guest experiences like no other, if you feel more comfortable with an out of the box solution, we've got you covered!
Guest Check In & Out
Speed up the process for guest check in and out by creating fast lanes, guests simply tap a sticky at reception. When checking out, create a small survey or link to your preferred review platform making it easy for guests to review you onsite.
Room Service
Tailor guest experiences to your location, create multiple types and instances that you simply switch on for individual rooms. Example, you may have a leading exhibition in the area so the information and links may differ to a family on vacation, you simply turn on the correct 'flow' and tailor the experience for your individual guests.
Food & Drink
Stickies can be placed anywhere you want your guests to order and pay for food. They're not dependent on connectivity with the hotel main site, it's your guests mobile phone that does all the work, all without a QR code to scan or app to download minimising any impact for your your guests.
Corporate
Going beyond rooms and individual hotel guests, create corporate touch points to order pre-paid delegate packages. Distribute stickies to your corporate accounts and make it easy for them to order food and drink ahead of time, book rooms and pay for events.
Easy re-order or ready notice for pre-paid food and drink.
Stickies solve problems and enhance the space around them.