We're taking the sting out of payments and access to affordable tech
Every merchant should have the freedom to change in an instant how they take payment. Whether you're looking to offer curbside (timed) pick up, wanting to reduce queues outside or exploring delivery with your own drivers, our revolutionary Fintech solutions enable you to do it all, including simply just taking a payment from a customer.
Take payments anywhere!
Purchase single or multiple stickers for your business and start taking payments today. Sent the amount you want your customer to pay to a sticker, customer taps with their device and makes payment under 10 seconds.
Stickers are not dependent on WIFI or connectivity all you need is a mobile device that's connected to the internet to send payment instruction to a sticky, anywhere in the world!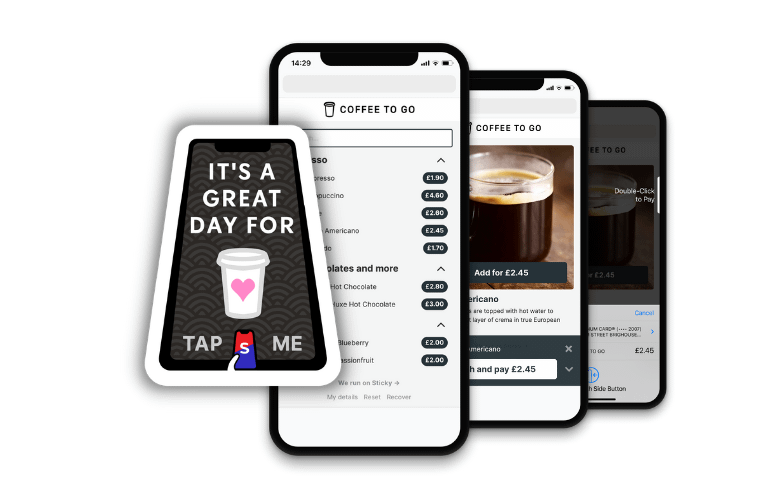 No QR Code or App
Customer taps a sticky
Taps the notification
Selects items to purchase
Pays with Apple Pay & Google Pay
Do more with stickers
One dashboard can do it all! Stickies can be placed anywhere, tables, rooms, windows, car parking spaces, in the home or office. Simply purchase more stickies if you need them, or snooze them when you don't.
Order & Pay@table
Place on tables and create the fastest pay at table experience for your customers.
Pre Order & Collection
Add pick-up times for timed collection of orders. Turn orders faster and increase footfall.
Delivery
Have your own drivers? Turn on delivery, even better it's commission free!
Mobile Vendors
Place stickies on any touch point to take payments. No connectivity or dependency on WIFI or internet access.
Queue Busting Fastlane
Reduce queues and waiting time easily with our pre-baked solutions. Place stickies inside or out of your premises.
Curbside Pick-Up
Create collection points in the carpark or nominated areas of your business for customers to pick up their orders.