Halo Emergency Alerts
Halo, revolutionises safety in bars, nightclubs, and music festivals with the Sticky no-code operating system.
Sticky's pioneering emergency alert system, designed to offer critical support in a multitude of social environments, from bars and nightclubs to music festivals. Our unique Halo system, employing innovative technology-enabled stickers, allows any individual to discreetly summon help with a simple tap of their smartphone. This revolutionary system is here to change the way we handle and prevent drink spiking, needle attacks, and making social spaces safer for everyone who needs.
The Halo sticker system allows anyone who suspects that their drink may have been spiked to alert response teams and bar staff with a simple tap of their phone. When the sticker is tapped, it sends an emergency distress call to a trained member of staff who then responds immediately to the named sticker location. No need for an app download or getting yourself to the bar to ask for Angela – just the capability, which most modern phones have to facilitate contactless payments.
In the UK, drink- and drug-spiking has reached "epidemic" levels, with up to 15% of women and 7% of men having been spiked with alcohol or drugs. It has become such a commonplace event that people are asking not if, but who has been drugged over the weekend. In a survey of 747 people, 12.6% reported they had been spiked.
The issue is even more prevalent among university students, with 11% reporting incidents. What's more, a shocking 35% of incidents occur at private parties, suggesting that spiking often takes place within a wider friendship group. Despite the rise in incidents, reporting rates remain low with only 8% of victims reporting to the police or a medic. In fact, the number of reported spiking incidents last year was 1,466, up from 722 the year before. Source. Theguardian.com
How it works
Anyone Can Tap for Assistance. A key feature of the Halo system is its accessibility – it's designed for anyone with a smartphone. By simply tapping a Halo sticker with their phone, any individual can instantly send an alert to designated staff members. Whether a person suspects their drink has been spiked or they're feeling uncomfortable in any situation, they can call for help discreetly and immediately. This system is not just for potential victims but for anyone who observes something suspicious or unsettling
Customised to Your Venue. The Halo system is versatile and can be customised to fit your venue's specific needs. You can adjust the details and instructions of the emergency message quickly via the no-code management dashboard. You can also add, delete, and modify the phone numbers to be alerted, keeping your Halo stickers in sync with shift changes and staff availability.
Location-Specific Alerts. The Halo stickers can be placed strategically throughout your venue. This means that when an alert is triggered, your staff won't just know that someone needs help, but also where they are. This location-specific feature is especially useful in larger venues such as music festivals where finding a person in need amongst a crowd can be challenging. By providing a precise location, the Halo system ensures swift and accurate responses, potentially averting crises before they escalate.
No App, No Hassle. With the Halo system, there's no need for an app download. The system operates using technology, that most smartphones already have to facilitate contactless payments and other features. This means that anyone, even guests who aren't familiar with your venue, can use the system without needing to download and navigate a new app.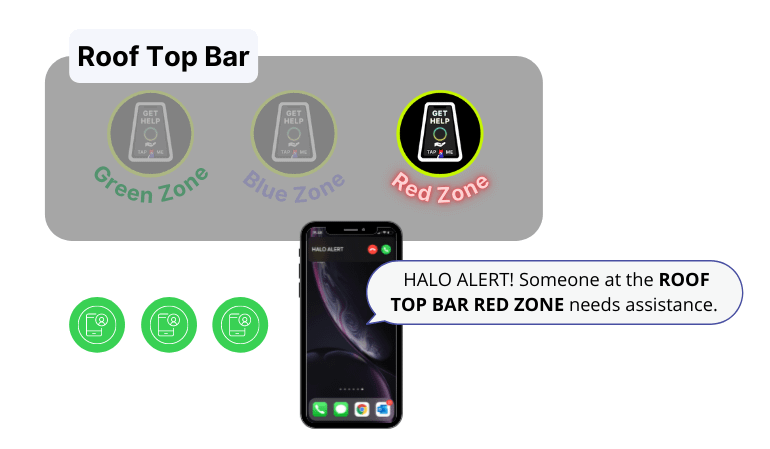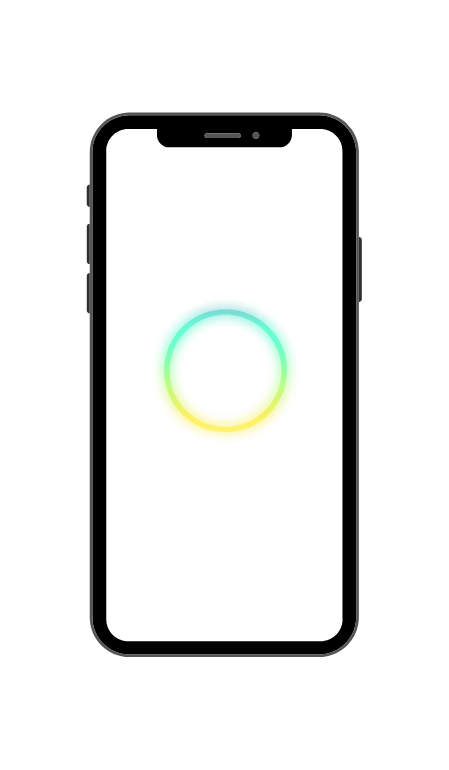 Features of the Halo System
Flashing white Halo screen. When a sticker is tapped, the phone of the individual can display a flashing white screen, making them easy to spot in crowded spaces like festivals
Check-in feature. Utilising the one-tap stickers, this feature also serves as an instruction point to inform guests that your venue is equipped with the Halo system. Choose additional functions such as check-in pop-up screen with Halo sticker locations and collect data to assess capacity and team focus areas.
All features can be toggled on or off from the management dashboard. The Halo package offers more features that can be added to suit your venue's specific needs.
Create safer social environments for everyone with no-code.
By integrating the Halo system into your venue, you send a clear message that you take safety seriously and are committed to providing a secure and enjoyable experience for all attendees.