Empowering Charities with Lightning-Fast Donations in Under 10 Seconds.
Sticky offers an enterprise-grade, no-code marketing platform specifically designed to meet the unique needs of charities. We understand the importance of streamlining operations and maximising fundraising efforts, and we're here to provide you with a powerful solution. With Sticky, your charity can elevate marketing initiatives, engage with donors, and make a significant impact in the community—all without the need for extensive coding knowledge.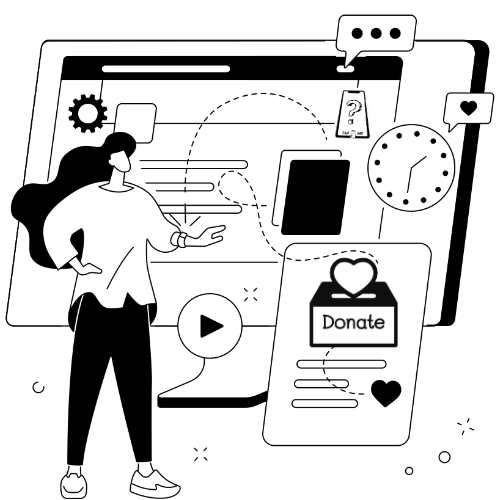 Sticky revolutionises the way donations are collected, providing fast and diverse donation points, anywhere!
Fast and convenient donation points for diverse settings, including donation boxes, campaigners, fundraisers, charity balls, and events – from large stadiums and venues to the local community centre. Our low code platform combined with your charity branded stickies, offers a seamless experience that increases revenues and streamlines any campaign.
Join the growing list of charities that have experienced the difference with Sticky. Together, let's transform your donation process and create a brighter future for your charity's campaigns.
For the public, there's no app to download, no need to input any details or scan extra codes, and no notifications to clog up your device. It's quick, simple and something that every charity will benefit from as we move to a contactless, cashless society.

Alex Murdock, corporate fundraiser Cancer Fund for Children
As society becomes more cashless and more and more people are relying on their phones for payments, the charity sector needs to be able to move forward and adapt to that. Stickies provide a strong and unique contactless solution for our donors.

Karen O'sullivan, Development and Marketing Manager, Cork ARC
Sticky® is building a developer network effect.
Create applications with low-code.
With Sticky, you can build your own custom solutions using our intuitive drag-and-drop interface and JavaScript.
Whether you need to connect Sticky to your EPOS/CRM system, automate flows, or enhance customer experience, you can do it all with our low-code platform.
Open source. Write flow steps in Javascript and connect to EPOS/CRM. Our integration layer is open source.
Open API. Access everything with our 100% open API. Automate tasks, sync your data.
Plug and play SDK. We make it easy to write flow steps for the global developer community.