The hotel wanted to offer their guests a modern and convenient way to order food and drinks and request room service without compromising their heritage and charm.
Grays Court Hotel is a historic independent hotel in York, UK, that dates back to the 11th century.
Grays Court Hotel is an excellent example of how Sticky® can help solve problems in a physical space, all from one flexible no-code dashboard. Having Sticky® in place empowered the hotel to overcome challenges quickly and further develop the guest experience at the hotel and increase revenue.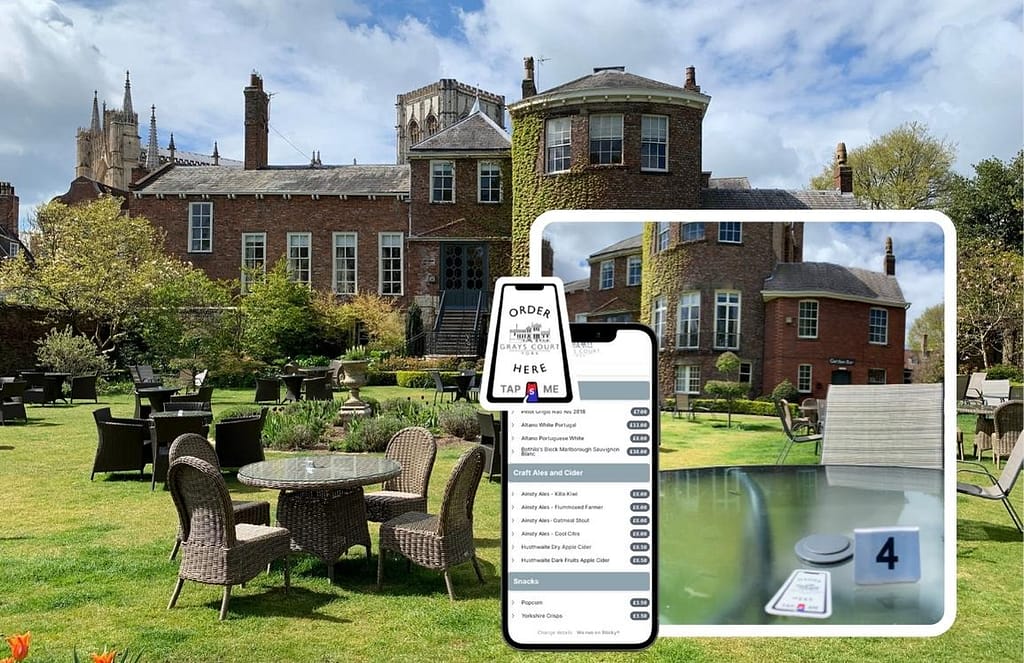 Improved guest experience.
Using Sticky's no code dashboard, the hotel was able to create custom workflows that connected to their own unique branded stickies. They strategically placed stickies on each table of the garden restaurant and bar, as well as in each of the rooms.
When tapped with a smartphone, guests are automatically directed to the unique hotel flows they created in the Sticky no code platform. From there, guests could easily order food and drinks from the menu, request room service, leave feedback and more. With just one tap, guests could interact with the hotel staff and pay for items in ten seconds or less.
Increased satisfaction and decrease in staff workload.
The results were impressive. The hotel saw an increase in revenue from food and drink orders by 25%, an increase in customer satisfaction by 35%, and a decrease in staff workload by 15%. The guests loved the convenience and simplicity of the stickers, and the hotel was able to maintain its historic charm while offering a modern service.
The benefits were not just limited to guests, the hotel staff reported increased efficiency and improved customer feedback. With the stickies enabling Apple Pay and Google Pay the staff were able to focus on providing exceptional service without worrying about payment or handling cash or credit cards.
Conclusion.
The sticky no-code platform is a powerful tool for independent hotel businesses that want to create their own apps without coding or spending a lot of money.
Overall, Sticky's platform provided a win-win solution for both guests and the hotel staff. With customised branded stickies and a user friendly application, the hotel was able to enhance the guest experience while improving operational efficiency.
Learn more about how Sticky's technology can benefit your business and experience the difference our no-code platform can make to your business and productivity. Request a demo!