Boston Burger, Chippenham. United Kingdom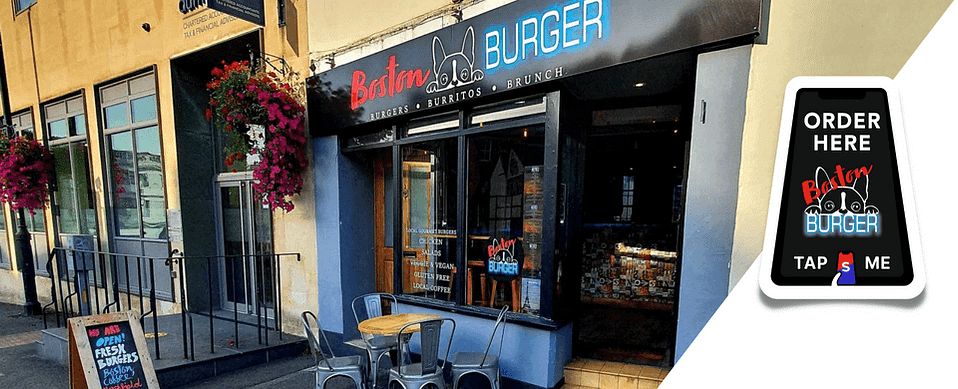 As a new business what did they need?
After months of planning, Boston Burger opened its doors in January 2021 in the middle of the pandemic. Fierce competition for takeaway food through pop up ghost kitchens and the rise of expensive aggregator delivery apps didn't fit with their vision. They wanted a way to serve their local community and remain independent and in control of their business.
No QR Code or App
Customer taps a sticky
Selects from the menu
Selects time to collect
Pays with Apply Pay or Google Pay
Identifying the problem was key to their strategy
The immediate problem was the successful opening of the takeaway. Quickly gaining a reputation for quality and delicious gourmet burgers, long queues began to form. Every order is cooked fresh which meant customers having to queue for 10 minutes, place the order at the counter and return 15 minutes later to collect.
The popular lunchtime burger or hotdog was now a long winded affair. The owners Jamie and Patrick knew they needed to find a way to continue to grow but also maintain customer satisfaction.
The initial enquiry was centred around the small eat in area. They rightly thought if they could implement an order and pay at table solution to relieve the pressure on team members, seated customers could order food without having to join the queue outside.
The power of Sticky® transformed their strategy and local reach
Once introduced to Sticky Jamie and Patrick realised that they could maintain their current payment provider Retail Merchant Services (one of our partners) and create a world of solutions far greater than an app or QR code could offer.
How Boston Burger succeeds and continues to grow on Sticky®
Smart Local Click & Collect
100 stickers given to local business in the high street and surrounding offices.
Business owners and staff members simply tap their sticker, order and pay and select the time they want to collect.
Each sticker in the wild is named to the business; this way Jamie and Patrick can easily identify customers and through reporting build powerful special offers and loyalty flows unique to individual people.
The average spend per head has increased and over 50% of sales now attributed to the Sticky® ecosystem they created themselves!
Order Screens & Printers
Real time orders appear on any tablet or device connected to the internet, including a phone.
Orders appear and remain on screen until a team member taps and acknowledges the order, with the oldest order always remaining on top.
Jamie and Patrick elected to purchase a tablet and fix to the wall in the kitchen area. They have also purchased a printer which blends with how their kitchen operates in busy periods.
The traditional approach of printing orders and tickets for the kitchen can easily be turned on in the Sticky dashboard.
Going further to get more customers
Having initially set up sticky® to combat the queue, it wasn't long before the owners started to realise the potential of their Sticky® platform.
The introduction of an online link to the website, Google business and social media channels meant that they now reach new customers in their homes.
The success of publishing the online link combined with their local reputation has elevated sales. Customers happily choose a time to collect orders and the business does not need to consider a delivery option. However, if a delivery channel was needed, Jamie and Patrick know they simply turn the facility on from their dashboard and commission free.
Sponsoring the local little league team
Limitless potential! Jamie & Patrick have sponsored their local little league football club and are excited to be giving stickers to every team player.
Parents and carers also take the stickers home and not only will be able to order food directly from their team sponsors but take advantage of team discounts and loyalty programmes.
Jamie and Patrick have full control. They can create actions that go beyond food ordering and create true loyalty by helping the club and coaches to update and post videos to the stickers in real time.
We now have a click and collect system where customers can order and choose a time they wish to pick up their order in-store. This has helped ease wait times, increase spend per head and generate customer loyalty. If we are busy, we can also customise our system to show alerts, delay orders and switch off products when out of stock.

Jamie Duffell, Boston Burger
---
The Boston Burger Package
100 Boston Burger brand stickers £2/each
Starter Plan
Up to 5 Flows (functions)
Flow 1 for distributed stickers
Flow 2 for Google*
Flow 3 for website
Flow 4 for the little league club
*Boston Burger create separate flows for Google and special promotions, all from one menu. This enables them to quickly identify the source of orders and measure promotions over different networks.
---
More information and pricing